First off, I must admit that I really like this pattern! The detail is amazing!
I've decided to do a swatch for each pattern posted in the pattern though, as I've been finding some mistakes in it. (I did contact the designer, and she apoliguised and is quite pleased that someone is working on her design and took the time to advise her - she actually incorporated 2 different designs into this one sweater - hence the mistakes.)
Anyway, this is just a swatch of the 'grapevine' pattern. I swatched an entire pattern (over 32 rows), then did 22 rows more, as there was a mistake in the beginning of the pattern and I just wanted to make sure my 'correction' worked.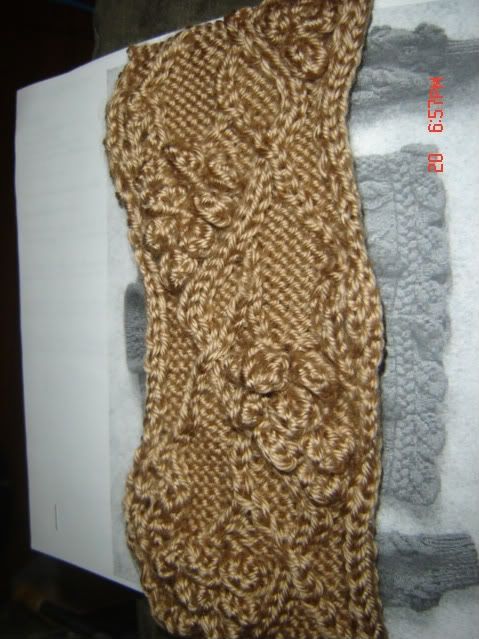 I finished the 'leaf & cable' border (the bottom edging of the sweater), and have now picked up 245 sts on said border. Now comes the fun part!
This sweater is worked over 245 sts. It has a grapevine pattern (as shown worked over 25 sts), a Framed Cable pattern (worked over 16 sts), a Mock Cable pattern (worked over 3 sts) and a Moss st - and each of these are done numerous times throughout each row!
WHEW, wish me luck!
I'll update in 1 week!
BTW, Happy Easter!