so, as per my last post, I mentioned that I had started a new project.
Knitted socks!
yep! socks!
I found a tutorial, and am following it for my first attempt.... but not only am I attempting socks, I'm trying out the Magic Loop method as well....
I know.... I know.... I'm crazy, and sometimes I go overboard. But what can I say? That's the way I was taught to be! :)
So, here's the tutorial I'm following...
http://www.cometosilver.com/socks/2mlsocks_start.htm
And here's my progress thus far...
(remember, I started this project last night)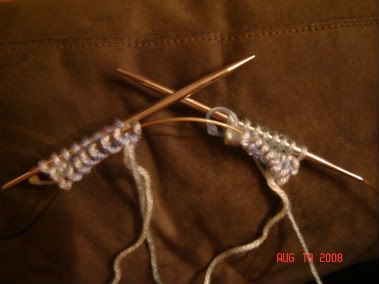 the cast on using a 'figure 8' cast on method
OMG, they look like toes!!! :)
and, at this point, I do admit that they look pretty funny... but here is where I'm at right now...
hehehe!