I've joined a KnitAlong on knittinghelp.com for 'Egeblad and other stunning lace beauties'!!!!
Pattern is here..
http://www.yarnover.net/patterns/doilies/kunststrik/egeblad.html
It is an absolutely beautiful pattern with a swirling flower in the center and concentric, slightly offset radiating leaves. I'm knitting this one with Cotton Fleece in Peridot on size 4.5 needles.
Well, like I mentioned, I've just begun it.
Here it is on dpn's at about row 9...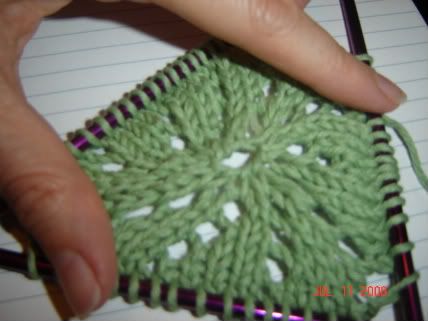 and on circulars up to the 27th row...
Edited to add: up to row 35
Edited to add: up to row 56
Will continue to post as I progress.